---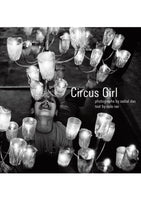 Circuses provide surreal, fantastic entertainment. At times magical and at others chilling, the circus is a world of magic and spectacle for the viewer, but for the performer, a career in the circus often brings with it a nomadic, lonely life. In Circus Girl, photographer Saibal Das captures beautiful and unusual images of circus girls, photographs which evokes this sense of darkness and resignation that underlies the otherworldly feats they perform under the big top.
For instance, in one photograph, a circus girl whose act involves a lioness is seen sitting in front of a mirror putting on her makeup. The lioness that she usually whips in the ring stands behind her, her paw touching the girl's shoulder affectionately. But both wear a solemn look. In another, the girl sits on her props, staring silently at the snack packets strewn on the ground. The giant marquee is empty.
Internationally renowned mime Nola Rae provides a haunting accompanying text that poetically comments on the transient wanderings of the circus performers who often yearn for a conventional family life while donning their costumes and taking hold of the trapeze. Rae gives voice to the circus girls, articulating the thoughts too often hidden by the brilliant illusion of stage lights.
Pages:

 142

Format:

 

Hardcover

Size:

 9.5

 in x 9.5 in