---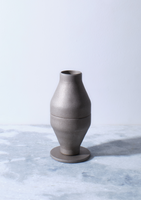 About the artist

Born & raised in Margao, Goa Ashwin Mallya completed his schooling and graduated from Symbiosis Institute of Design, Pune. He is currently a Bombay-based artist, industrial designer and creative director. Mallya's work revolves around surface development and object design with a material-first approach. He previously led the design and development team at Bharat Floorings & Tiles (2015 - 2019) and has had the privilege of working under some wonderful artists in the country.


Ashwin was struck by the pride Khotachi Wadi residents have in owning and carefully displaying collected objects in all the homes he visited. Purpose-driven, need-based objects were paired with objects of great aesthetic value, both of which had their role in these homes. His idea was to make a small cabinet of things with maybe two or three objects which could be produced in large numbers if required. The fun of batch production is that it leads to more people owning the objects.

His walks around Khotachi Wadi and half-days spent in the Girgaum areas of Gulalwadi, Gol Deval, Kumbharwada, and Tambakatta lead to him stumbling upon the perfect material to begin the work: the SS304 components were selected based on their longevity and how they age when used and touched. Maybe these newer material and production methods contrast to a slowly crumbling Khotachi Wadi, but the underlying concern of the objects is to suggest that residents might look to new methodologies as they face the realities of restoration and conservation of the area.


Ashwin Mallya
Untitled, 2022
Stainless steel (SS304) and laser cut rubberized etched cork sheet, sandblasted
Height: 18.3 cm
Mid diameter: 7.9 cm
Net Weight: 1.4 kg