---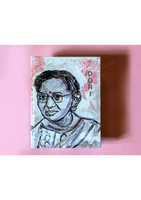 Editions JOJO is the publishing alias of Kaamna Patel. Titles published under JOJO celebrate playfulness, process, and experimentation through handcrafted books. The name is derived from Flo-jo, the fastest woman in the world who broke the record in 1988.
Ba & Dada were paired together by their parents in Gujarat when they were 3 & 5 years old respectively. Now aged 94 & 96, their relationship is still evolving albeit the limbo that a long and healthy life leaves you in. Dori (thread) looks to bind questions on love and family by observing an important relationship that the author grew up with as a child within a joint family in India, that of her grandparents. Incorporating her images with family archives and conversations, the book stands testament to a life shared between two strangers who met as children, and of their love through the ages. The book dummy was shortlisted for the Kassel Dummy Awards 2019.
The special edition of 50 copies comes wrapped in part of Ba's saree with Piko edges, a stitching technique that is standard practice after buying a saree to protect the edges.

Published by: Editions JOJO
Hard cover

136 pages

6.5 x 8.5 in