---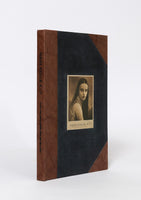 Amrita Sher-Gil is among India's first woman painters to make a mark at national and international levels. She was an enigmatic personality, with a mixed nationality (half-Hungarian, half-Sikh). Her extended stays in Paris where she studied, Simla (her summer getaway) and Budapest (her mother's hometown) combined to influence her work, in a dazzling palette.


This catalogue was produced for Amrita Shergill's exhibition Amrita Sher-Gil: Icon, 2004, at Chatterjee & Lal.
The exhibition showcased the dazzling oeuvre of the painter that is virtually a national treasure. Born in Budapest in 1913, she started drawing and painting in watercolours from the age of five. Her mother would tell her Hungarian fairy tales, which she would illustrate. In 1921, the Sher-Gil family sailed for India, to settle down in Simla in a large house at Summer Hill. The drawings and watercolours Amrita did between the ages of eleven and fourteen (1924 to 1927) are related to a growing awareness of herself.
Catalogue
2019
Unlimited digital print
Softbound
43 pages,  10 x 6.75 x 0.3 inches
77 black and white illustrations
9 colour illustrations