---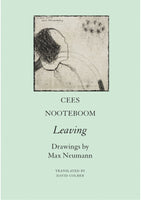 One of the leading living European writers, Cees Nooteboom never shies away from contemporary issues. His latest collection of poems, 
Leaving
,
begins in a garden with descriptions of Mediterranean plants, but what emerges are memories of the war—images of a distant past that have never disappeared. The poems take another turn when, unexpectedly, a mysterious virus takes control of the world and turns life upside down.
A collection that can be read as a single poem, in which desolation and beauty, past and future, nostalgia and mortality all merge to represent the most mature work of a great poet. German artist Max Neumann's haunting images that accompany the poems work as complex visual metaphors that further underline the beauty and the gravity of the poems. Together, they make for a delicate and thoughtful read.
Pages:

 80

Format:

 Hardcover

Size:

 6.25

 in x 9 in