---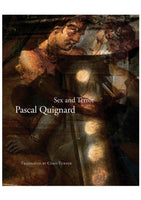 The fascinus, or phallus, was at the heart of classical Roman art and life. No god was more represented in ancient Rome than the phallic deity Priapus, and the fescennine verses, one of the earliest forms of Roman poetry, accompanied the celebrations of Priapus, the harvest, and fertility. But with this emphasis on virility also came an emphasis on power and ideas of possession and protection.
In Sex and Terror, Pascal Quignard looks closely at this delicate interplay of celebration and terror. In startling and original readings of myths, satires, memoirs, and works of ancient philosophy and visual art, Quignard locates moments of both playful, aesthetic commemoration and outward cruelty.  Through these examples, he describes a colossal cultural shift within Western civilization that occurred two millennia ago, as Augustus shaped the Roman world into an empire and the joyous, precise eroticism of the Greeks turned into a terror-stricken melancholy. The details of this revolution in thinking are revealed through Quignard's astute analysis of classical literary sources and Roman art.
This powerful transformation from celebration to fear is a change whose consequences, Quignard argues, we are still dealing with today, making Sex and Terror an intriguing reconsideration of ancient Rome that transcends its history.
Pages:

 192

Format:

 Paperback

Size:

 6

 in x 7.5 in