---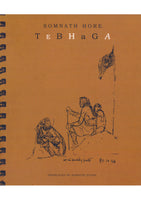 In the winter of 1946, Somenath Hore, one of India's major painter-sculptors, was assigned by the Communist Party of India to document the Tebhaga movement in North Bengal.
A young art student at the time, Hore witnessed the massive mobilization taking place in a network of villages, and captured the widespread spirit of peasant consciousness and militant solidarity, all the more remarkable at a time when communalism was rife in national politics.
Somnath Hore's personal diary and sketches of the Tebhaga days are an unusual social document of a peasant movement seen through the eyes of a committed artist. Closely involved in the struggle, the Tebhaga experience remained a source of inspiration for him.
One can see in these sketches the rugged lines since transformed into sculptured forms, but charged with the same intensity of anguish and anger; and the seeds of the vision that infused his later work.
Pages:

 86

Format:

 Paperback

Size:

 9.5

 in x 7.5 in