---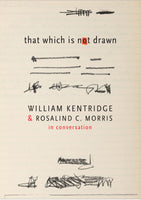 For more than three decades, artist William Kentridge has explored in his work the nature of subjectivity, the possibilities of revolution, the Enlightenment's legacy in Africa and the nature of time itself. At the same time, his creative work has stretched the boundaries of the very media he employs, virtually reinventing animation through the technique of drawing for projection, and ranging across the diverse forms of performance art and opera, sculpture and printmaking, tapestry and mosaice. In these myraid genres, Kentridge allows viewers to encounter the traditions of landscape and self-potraiture, and to think about the limits of representation and the labour of art.
In That which is not Drawn, William Kentridge and Rosalind C. Morris talk about his work in an intimate but wide-ranging conversation and deep investigation into the artist's techniques and into the psychic and philosophical underpinnings of his creations. In these pages, Kentridge explains the key concerns of his art, including the virtues of bastardy, the ethics of provisionality, the nature of translation and the activity of the viewer. And together, Kentridge and Morris trace the migration of images across his works and consider the possibilities for a revolutionary art that remains committed to its own transformation.
"That's the thing about a conversation," Kentridge reflects. "The activity and the performance, whether it's the performance of drawing or the performance of speech and conversation, is also the engine for new thoughts to happen. It's not just a report of something you know." And here, in this engaging dialogue, we at last have a guide to the continually exciting, continually changing work of one of our greatest living artists.
Pages:

 200

Format:

 Paperback

Size:

 5.5

 in x 7.75 in